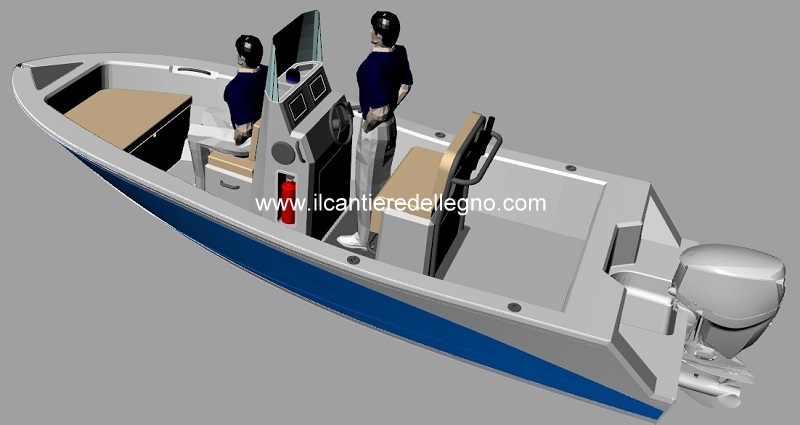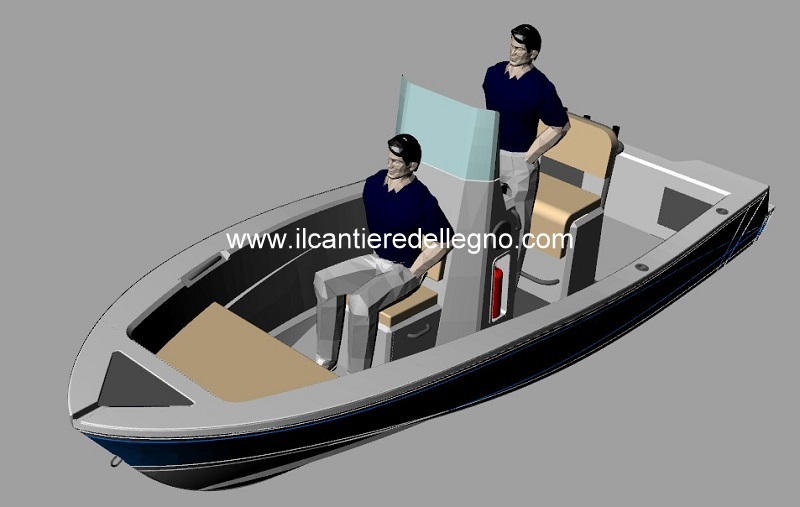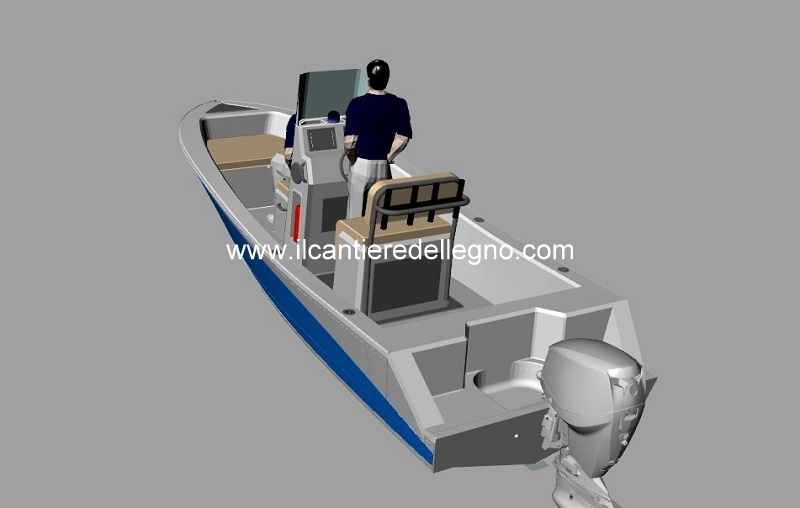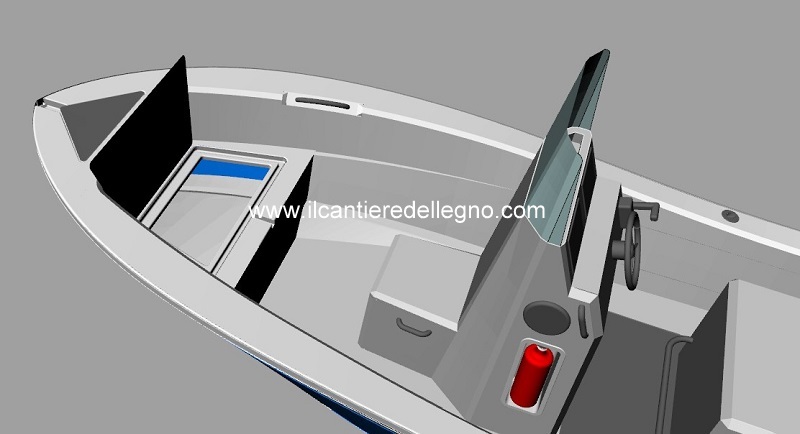 Akes Fish 18 is in fact very similar to keFish 15, but having a length of 5.30 m is more sleek and streamlined with improved aesthetics ...
The sophisticated and accurate contrast between angular and rounded lines, makes this small fisherman even more modern and appealing.
The small size and minimal engine of 40 hp, making the boat can also be used by those who do not have a boat license, also due to low weight, you can also transport the boat with small cars.
STANDARD PRICE and WITHOUT ENGINE:
€ 14.200 + VAT
(Price valid for the entire 2018)
HIGHLIGHTS:

Length: 5,30 m
Width: 2,00 m
Draft: 0,30 m
hull weight: 450 kg
Fuel tank: 80 L
Engine: Outboard 40 to 80 hp
Performance / Performance: 21 kn (25 hp) - 28 Kn (40 hp)
Warranty: 3 years
Homologation: CE cat. C
TECHNICAL FEATURES:
Structural diagram watertight bulkheads,double hull unsinkable hull variable geometry, crossed by two orders of shoes, designed for lightweight engines, capable to glide even with low power, cockpit suitable for fishing, trolley, convenient to use and excellent seaworthiness.
The excellent stability when stationary is a prerequisite for those who can fish out of season.
In addition, in the bow there is a crash-box very useful in case of small impacts / collisions.
The deck is fully customizable and offers of series a small bow sundeck, center console with internal battery and a bench double aft.
Under the seat rail there is a small locker pond and easily accessible.
Under the door find easy access to the fuel tank 80 L and locker for storing small things.

CONSTRUCTION FEATURES:
The whole structure is built with the most modern materials and technological such as vacuum infusion, we get consequently a lighter boat, but robust and therefore requires small engines and lower operating costs.
Hull in monolithic fiberglass glass fabrics biaxial and quadriaxial infused with epoxy-vinylester resin.

Walled and deck in sandwich core PVC closed cell and biaxial glass tissues infused withepoxy-vinylester resin.

Ordinates and spars in composites material, spider banded and glued directly on the hull in order to create watertight compartments.
ENGINE:
AKESFISH 18 can only be powered by outboard from 25 hp up to a maximum of 80hp.
From the sea trial have emerged exceptional data, with only 25 hp boat has passed slightly over 20 knots with 3 people on board, yet the minimum engine must be at least 40 hp.
STANDARD EQUIPMENT:
Driwing console with windscreen, compass.

Console interior with powder extinguisher 2 kg.

White cushions or completely removable cream.

Anchor HALL model to 4 Kg.

Electric panel with 6 watertight switches and 12 V socket on the consolle.

Electric pond 12 V system street lights led low consumption.

1 x 80 A battery with battery switch.

Cockpit with 1 x 12 V

1 bilge pump Vetus.

2 horizontal rod holders on each side.

2 compartments on the sides.

4 cleats AISI 316 fixed (2 aft and 2 forward).

Polyethylene tank 80 L cockpit with non-slip.

Side boarding ladder on the bracket.

OPTIONS:
Sounder, GPS, VHF, on console radio.

Cushions color different from white or cream.

4 retractable cleats.

Hard top.

Fresh water tank with shower.

Winter closing hard top cover.