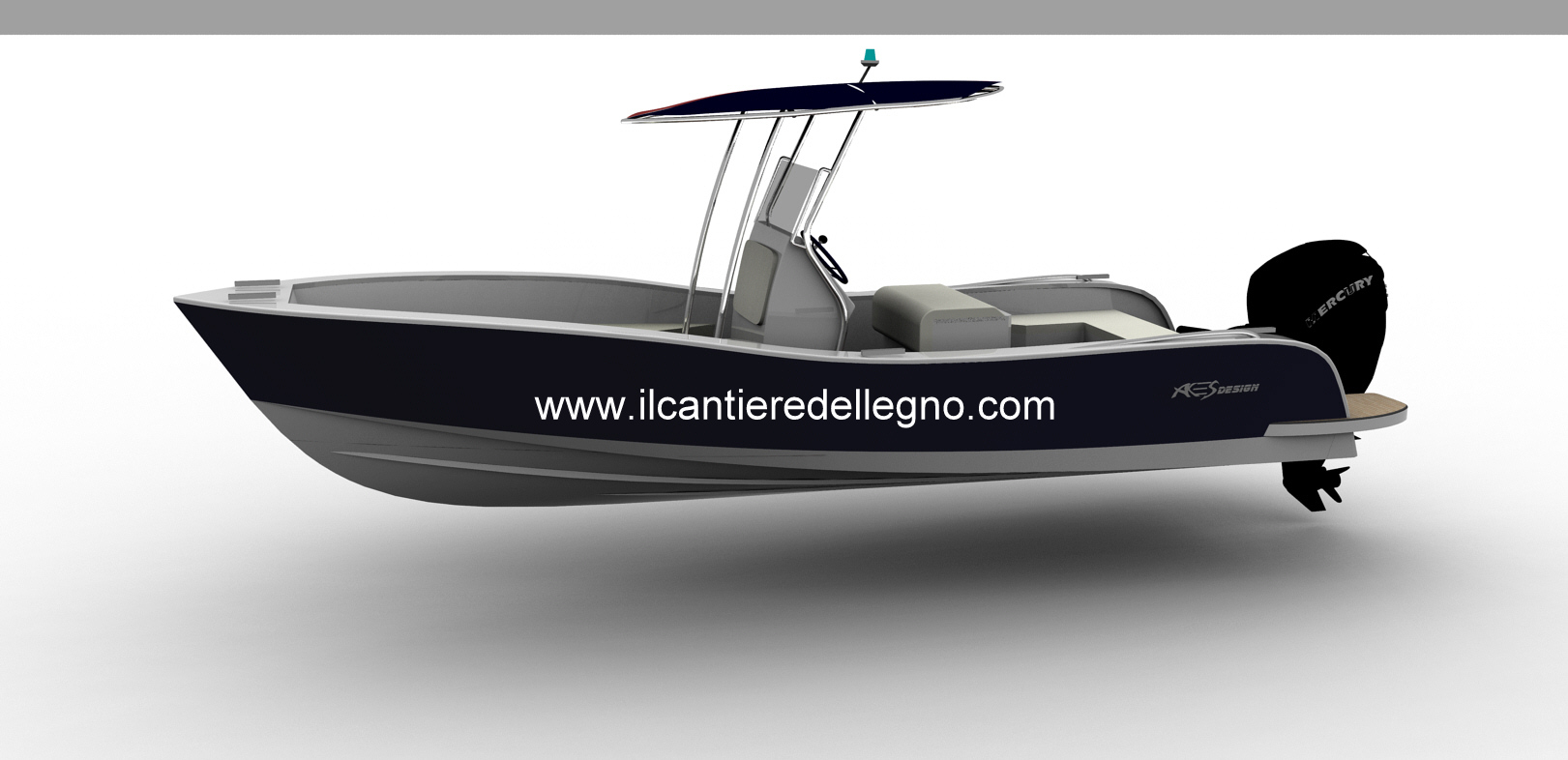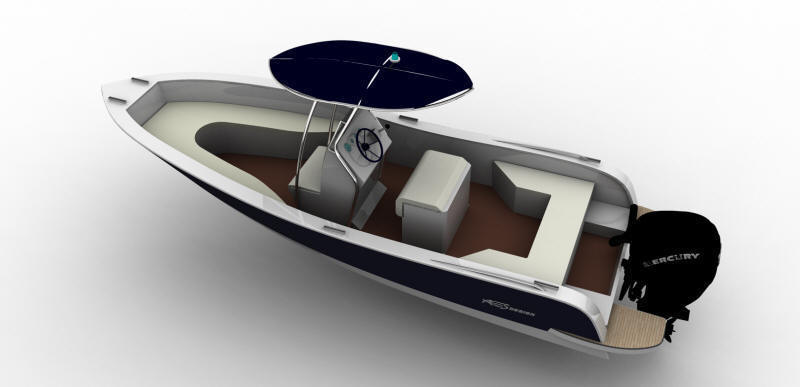 This small Fisherman 22 contains in its 6.6 meters, excellent marine qualities and performance of the hull made of composite materials and high quality finishes.
The sophisticated and accurate contrast between angular and rounded lines, makes this even more attractive modern fisherman.
The small size and minimal engine of 115 hp, (recommended 150 HP) make it perfectly trailerable with mid-sized cars.
STANDARD PRICE and WITHOUT ENGINE:
€ 25.700 + VAT
(Price valid for the entire 2016)
MAIN FEATURES:
Length: 6.60 m
Beam: 2.35 m
Draft: 0,35 m
Dry weight: 700 Kg (about 1100 lb)
Gasoline tank: 200 L (about 32 gal)
Capacity: 6/7
Engine: outboard from 115 hp to 200 hp
Performance: 35 kn (115 hp) - 44 kn (150 hp) - 50 kn (200 hp)
Structural warranty: 3+2 years

Homologation: CE cat. C
TECHNICAL FEATURES
Structural scheme in watertight bulkheads, hull crossed by two orders of shoes, suitable for an engine "light" but deep V and sharp, suitable for all seas, with an average of over 25 ° deadrise, sliding and designed to have no differences sensitive behavior under varying loads.
The excellent stability when stationary is a prerequisite for those who can fish out of season.
At the bow there is also a crash-box very useful in case of small impacts / collisions.

The deck is fully customizable and offers a wide range of chairs with folding table below, center console with internal battery and stainless steel T-top, livewell, cockpit flush deck.
Driving under the seat is a roomy locker pond and easily accessible.

Not being part of the blanket, on request it is possible to eliminate the bow so that you have more space on board.
At thigh level also, the rail is covered with a soft side padding which guarantees maximum comfort during the fishing action.
Under the floorboards are easy to access the fuel tank 200 L (with internal bulkheads) and locker for storing small things.

The boat is trailerable, unsinkable, compartmentalized in a watertight and self-draining even when stationary.
CONSTRUCTION FEATURE
The whole structure is built with the latest materials and technologies such as vacuum infusion in controlled temperature and humidity, so as to leave no room for the osmotic process typical of the boats made by hand!
You get consequently a lighter boat but robust therefore needs engines and reduced operating costs lower.
Fiberglass hull with monolithic glass fabrics biaxial (certificates RI.NA) quadriaxial and infused with epoxy-vinylester resin (Distitron).
Murata and deck in sandwich PVC core closed cell and glass fabrics biaxial - quadriaxial infused with epoxy-vinylester resin.

Ordered and longitudinal members of composite material bonded and banded directly on the hull so as to have a hull sturdy but at the same time elastic and flexible.
ENGINES

AKESFISH 22 can be powered exclusively with outboard, with single engine starting from a minimum of 115 hp and up to a maximum of 200 hp
The project services indicate about 35 Kn with 115 hp, 44 hp and 150 Kn with just over 50 Kn with 200 hp.
STANDARD EQUIPEMENT
Console with windscreen, compass and side storage pockets.

Hard top in stainless steel AISI 316.

Internal console with powder extinguisher 2 kg.

White cushions or cream completely removable.

Anchor DELTA or BRUCE 6 Kg.

Switchboard with 6 watertight switches and 12 V socket on the console.

Electric plant pond 12 and 220 V

Street lights to LED low consumption.

1 batteries of 100 A with switch.

Cockpit fresh water shower, 2 outlets 12 V and 220 V socket

1 bilge pump Vetus.

2 rod holders aft on each gunwale.

2 horizontal rod holders on each side.

2 compartments on the sides.

4 cleats in stainless steel AISI 316 fixed (2 aft and 2 forward).

Livewell in the cockpit.

Tank in high density polyethylene from 200 L

Cockpit with non-slip.

Ladder on the side bracket.
OPTIONALS
Fishfinder, GPS, VHF, radio console.

cushions of different color to white or cream.

Hull color other than white.

electric windlass.

pulpit in stainless steel AISI 316.

4 retractable cleats.

fresh water tank with shower.

winter cover closing hard top.

Electric flaps.

Floor in Flexiteek.