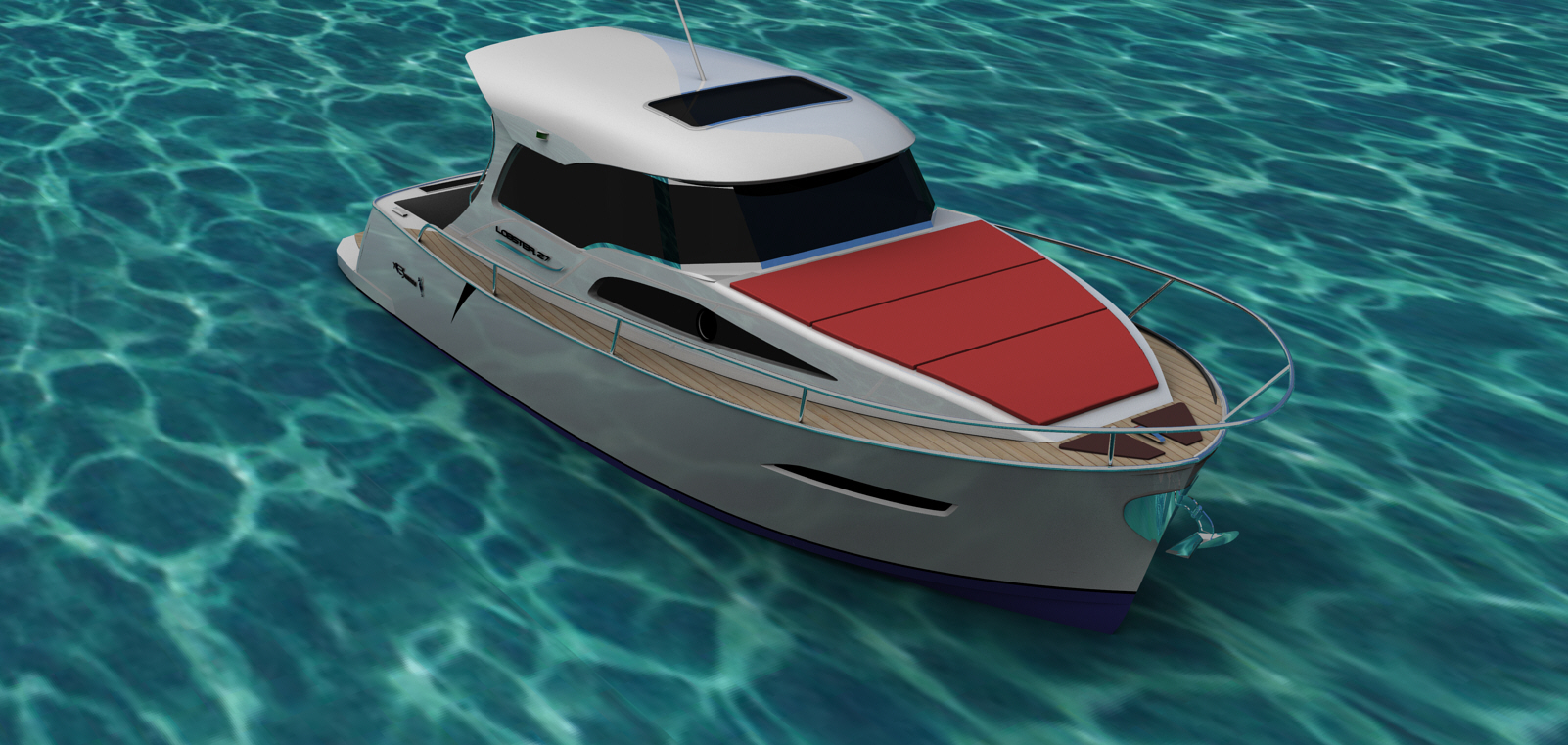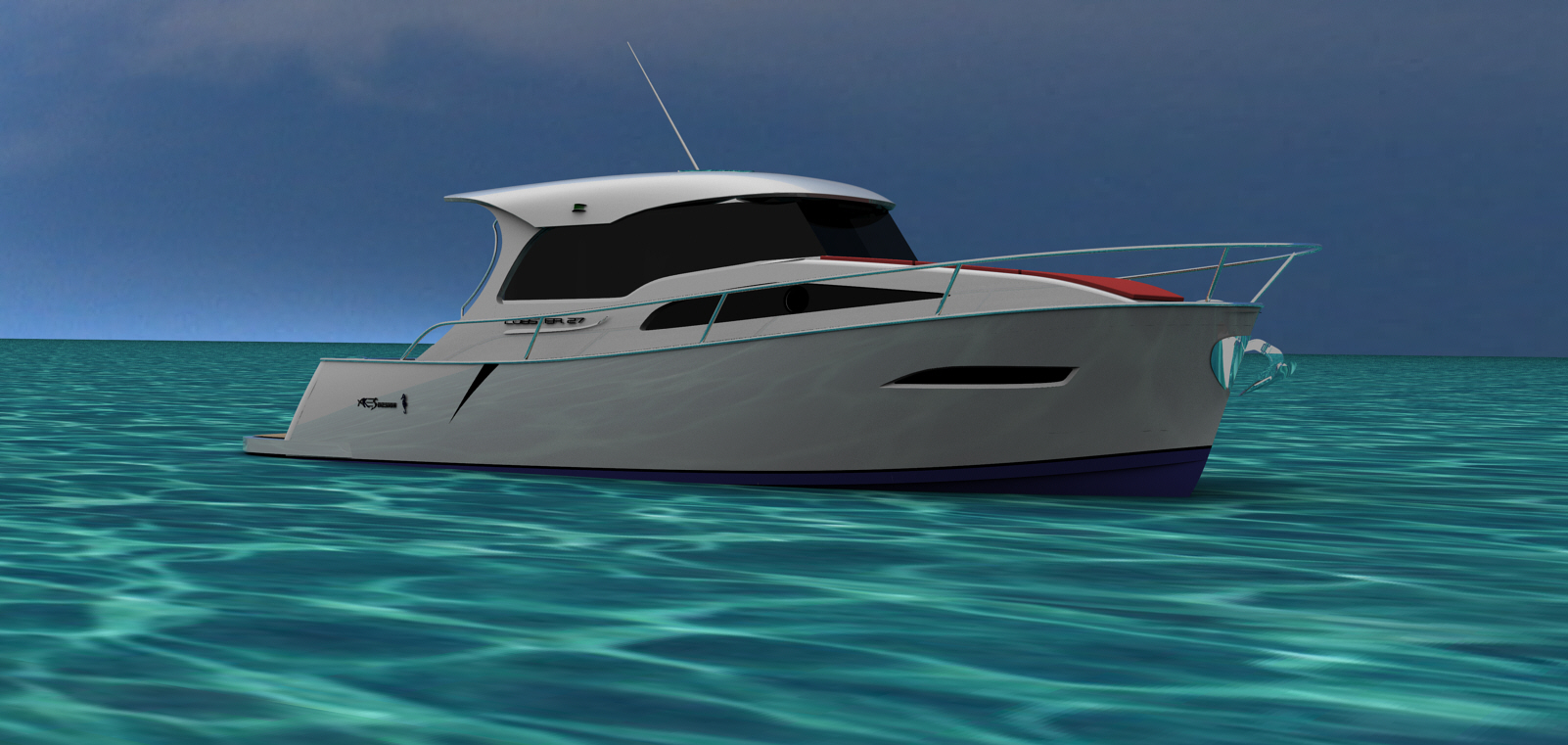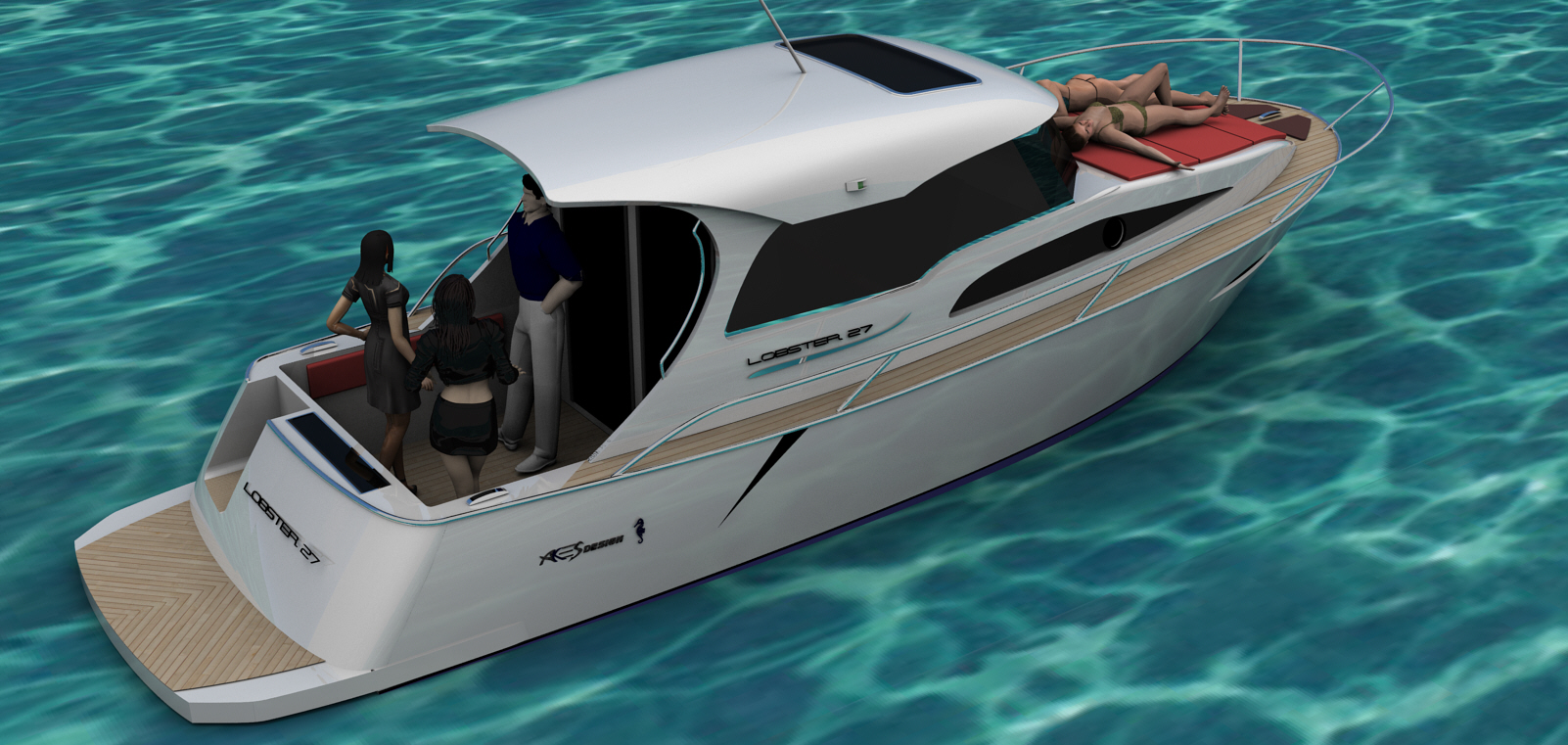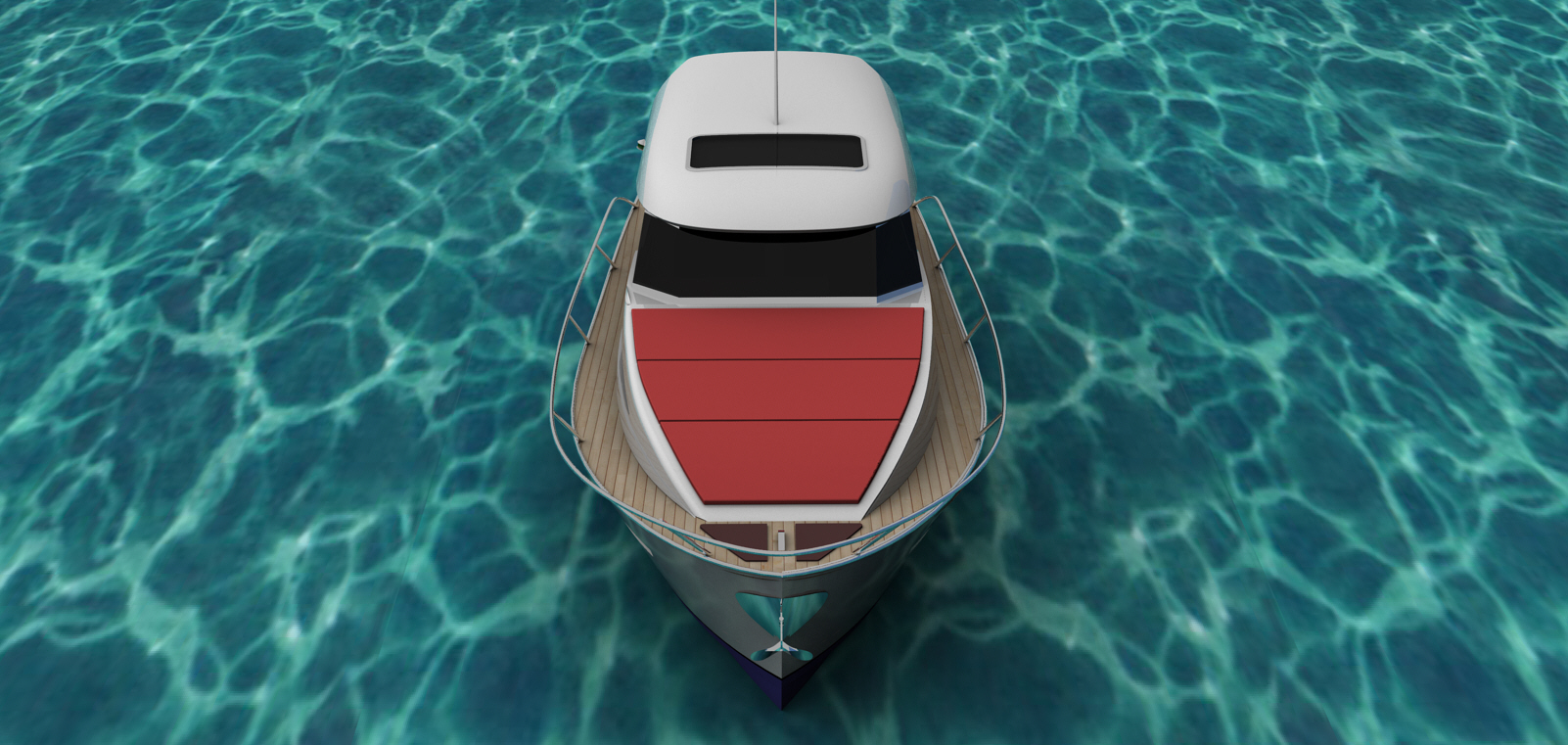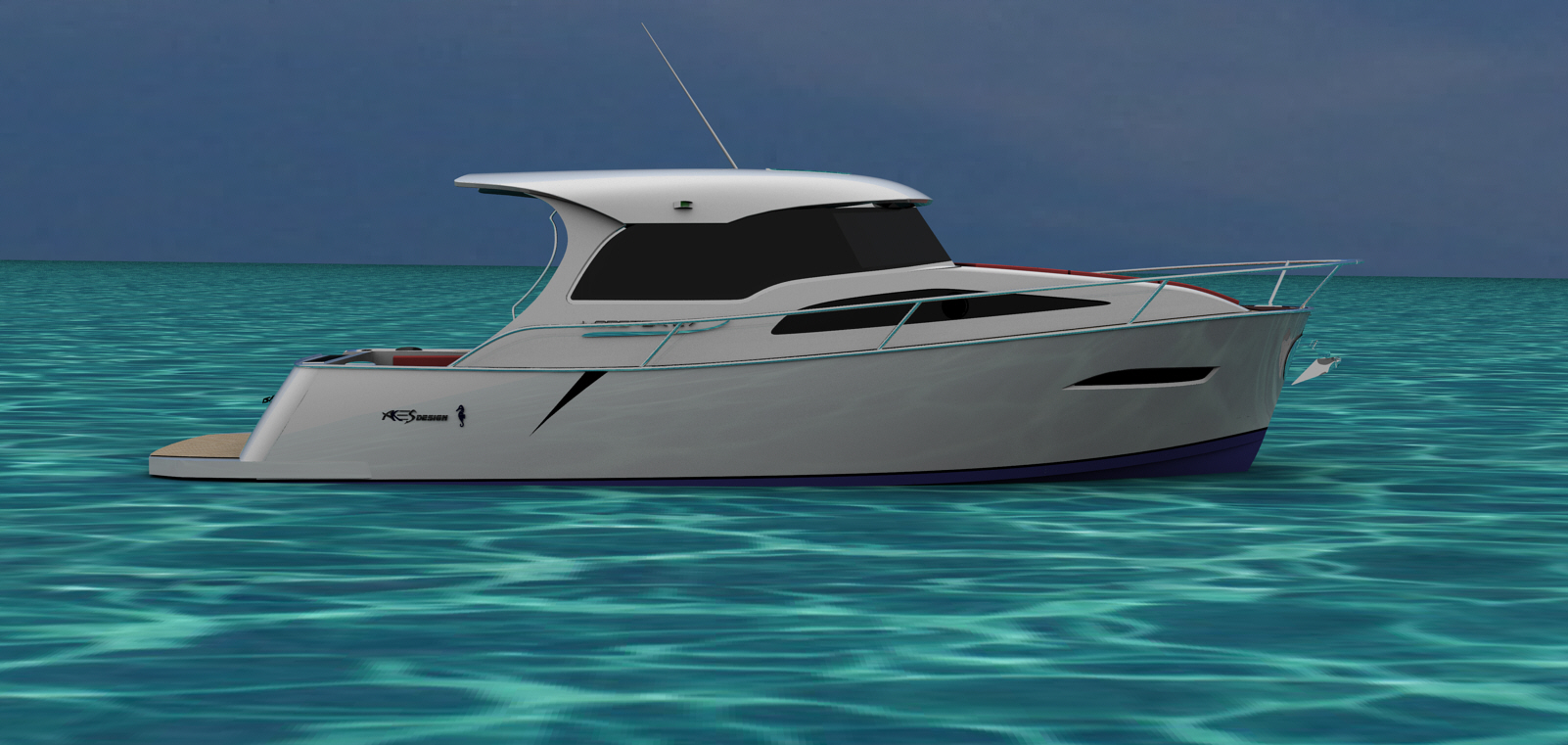 After a careful and thorough reflection together with the Design Studio Akesdesign , is taking shape within the construction site Wood " Lobster 27 ", a new boat and COMPLETELY HANDMADE that can be PERSONALIZED, studied and attention to detail that leaves nothing to chance, a different boat, especially, safe and reliable, built to address the needs of boaters current but above all to last.
The perfect combination of design and meticulous attention long market research has enabled us to achieve an excellent interior layout designed to make the boat livable for all the crew, not to mention women and children who often accompany us in navigation.
- MODERN DESIGN but classic style with nods to the past, characterize this Lobster which contains in its 9 meters (29 feet) an innovative design and technology, with attention to details, typically Italian.
- QUALITY SELECTED MATERIALS and matched with care, are the result of experience and professional craftsmanship, requirements that lately had been distorted or that have too high a incidence of medium-small boats.
Epoxy resin, biaxial and quadriaxial textiles, PVC closed cell, marine plywood, epoxy fillers, epoxy paints, stainless steel AISI 316 characterize this boat that cannot be compared for and quality to most boats made in series with polyester or vinyl polyester resins, mats and mat !!!
For this reason this Lobster 27 can grant a guarantee of 5 YEARS ON THE WHOLE STRUCTURE.
- SEMIPLANING HULL, specially chosen for maximum efficiency at speeds of project, is synonymous with a gentle surf, refined and relaxing, slower but that goes well with the current needs of the average boat owner who is increasingly cost-conscious management, consumption and ecology, heritage of all of us.
The hull (solid fiberglass) has been carefully designed to make the boat safe and enjoyable in all sea conditions. Particular attention was paid to the positioning of the weights resulting in a navigation balanced, dry, clean, eliminating annoying roll at anchor typical hulls to "V" deep.
It is made entirely of epoxy infused, THERE is no problem with OSMOSIS.
- CONSTRUCTION of Lobster 27 is made of composite material mixed SINGLE SKIN for the hull and SANDWICH for everything that is above the water line, all made INFUSION VACUUM a temperature and humidity controlled and is the most modern and technological you can find on the market.
A method that allows to obtain manufactured completely monolithic, and then of better quality, free from osmosis, more robust and elastic but with reduced weight, which require a smaller and less powerful engine which will have first a purchase cost less, consequently maintenance expenses less onerous but also fuel consumption much more content !!!
The superstructure is made entirely of robust and often SANDWICH CARBON infused which guarantees a lower overall weight and thus a lower center of gravity than glass.
Particular attention was paid in selecting materials and products to ensure the best possible thermal and acoustic insulation.
- FURNISHING all made in marine plywood coated with quality timber, characterized by a support structure forming part of the hull in effect, that allows to have no crunches or annoying noises while in the boat, it also helps to make the most robust and reliable!
The interiors have been designed and modeled by designer Nicola Dogà, which has taken steps to fully optimize the available space.
All the remaining furniture is completely disassembled and inspected in order to have an eye on any area of the boat.
Structural walls, partition walls and floorings constructed with robust sandwich of closed cell PVC and glass, equipped with numerous inspection doors are essential for monitoring and periodic maintenance in the bilge.
The basic version is characterized by particular and frames in natural oak contrasting brightness created by the White Oak predominant.
On request you can choose to use / combination of other species and colors.
The interior floor can be covered with wood or Flexiteek with white seam, robust and innovative synthetic composite.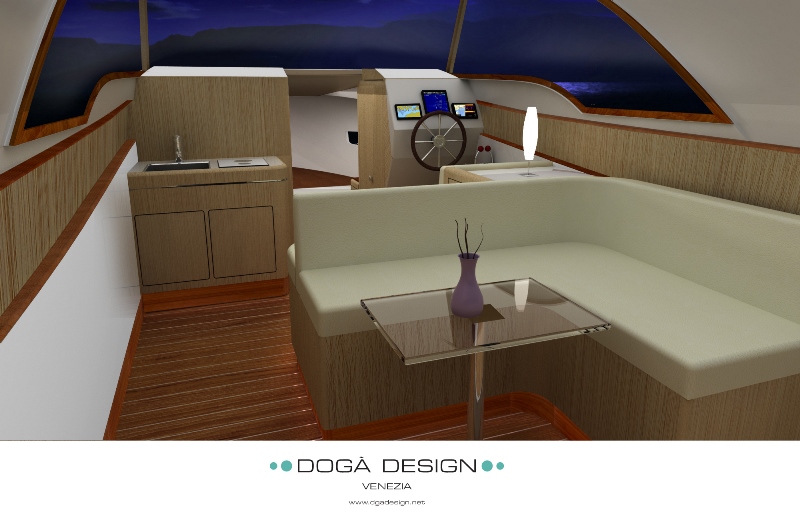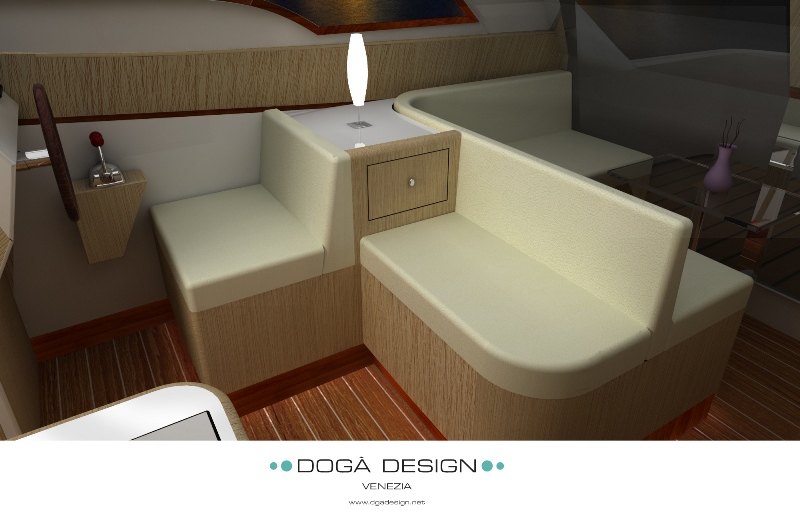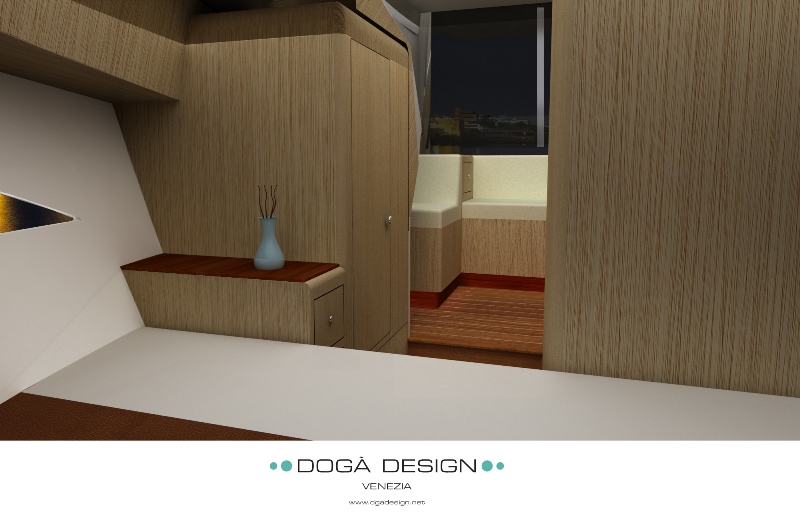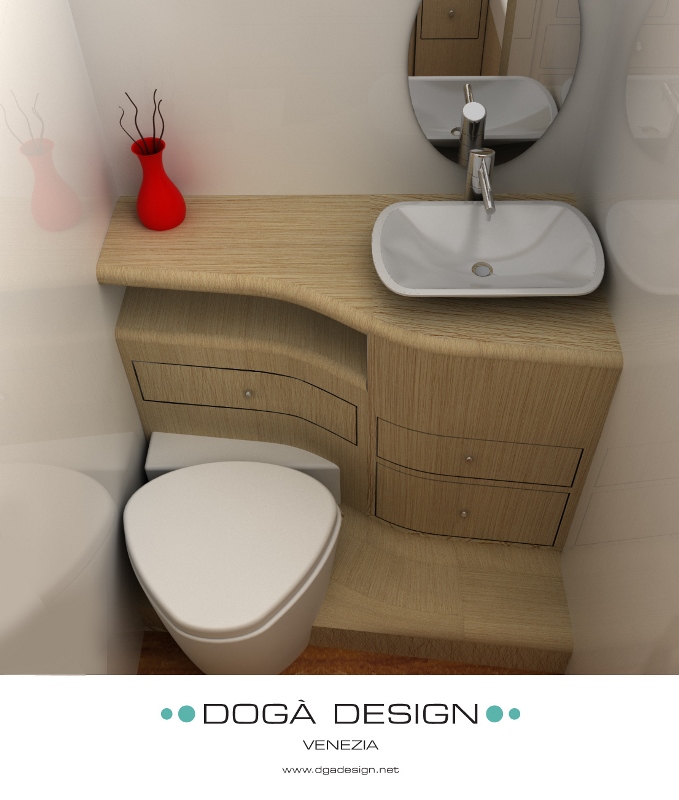 - ELECTRICAL SYSTEM 12-220 V intubated in the discharge trough accompanied junction boxes and inspection framework with tin.
Tinned copper cables/nickel double insulated for longer life, (with tin plated lugs and blocks) always guarantee a perfect operation of the LED lights with low consumption, chosen not to burden the battery package.
Solar panels on the cabin can produce a little less than 800 w/h, free energy and useful in the harbor that would otherwise be subtracted accumulators .
150 L fresh water tank with pump and circuit with pressure regulator and outlet for direct attack on the pedestal .
Black water tank with pump and rinse pump incorporated.
Water heater series.
- ENGINE inboard axle centrally located to balance the boat is perhaps a reference to the past but it is still the most economical and reliable for all purposes, while the bow thruster (series) and stern thruster (optional) helps maneuvering mooring.
The engine cover is not simply dump but is thermos-acoustically insulated to ensure maximum comfort while browsing.
Tank entirely of high density polyethylene, on request also available in stainless steel AISI 316 tank.
- HYBRID is the version (on request) with hybrid engine is definitely the most interesting part of this project and technology.
An internal combustion engine coupled to a generator that recharges the battery pack, allows browsing "ZERO" COST and ISSUES.
When the diesel engine is working, the generator connected directly to the motor shaft, produces a electricity and sends it to the accumulators (batteries) which will provide the necessary energy to the generator (which will behave like a half propulsive) to move the boat when the diesel engine will be turned off.
During the stop at the dock the battery pack can be recharged through the power 220 V providing the columns present, while in the harbor with the engine off, the help comes to us from the solar panels on the roof.
- LOBSTER 27 is made with special care and attention in the build quality, by posing as its first objective the robustness, reliability and durability, so we turned to important and famous Italian CERTIFIED COMPANIES producing-marketing products and high quality materials!
Throughout the construction and the interior we used to plywood Okumè (RINA - DIP 033711MI and FSC certified), produced by "NORD PLYWOOD".
Epoxy SP-HIGH MODULUS produced and provided by "GURIT" (certified German Lloyd and Lloyd's Register) has been used to infuse, assembly, bonding, laminating ...
As for sandwich core, we rely once again to "GURIT" which provided us the Corecell M foam, (certificate German Lloyd, RINA, Lloyds Register, DNV), while "SELCOM" provided us with glass fabrics and carbon, RINA and DNV (Det Norske Veritas).